Interview Attire – What to Wear?
There are some general rules regarding attire in an interview. It is a business meeting, so one should put on something nice, clean and decent. However, I believe it makes a big difference if you are interviewed for a managerial position, for an IT role, or for a position of a social worker.
Just think about it. Clothes reflect who we are. Different personalities are suitable for different jobs, therefore also our clothes should differ. Social work is a specific field…
Knowing it, your attire should be business casual, or even casual, in some cases. Your clothes should reflect the fact that you are a humble individual with good heart, who does not aim for money or for special recognition in society. Clothes should reflect the calling in your heart.
What to wear?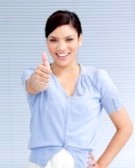 I would suggest simple trousers and a blouse for women. Long skirt is also acceptable. For men, jeans or simple pants and shirt is a perfect combination. If you do not apply for a managerial position in social sector, I would not recommend wearing a tie, or a jacket. 
You should also leave your piercing at home, as well as any accessories, such as necklaces, rings, laces, and so on. However, a cross (or other symbol) representing your religion is acceptable, and can even bring some benefits.
A good attire can not win you a job contract. Do not even dream about it… However, a wrongly chosen one can easily destroy your chances, as it can present you as someone either overqualified, or too confident, or as someone with wrong personality for the job. Please, keep it on your mind. Small details can sometimes make a difference in a tight interview. It would be a terrible mistake to underestimate it…
What's next?
Social work interview package