Social Work Interview Package
– Your ultimate guide on how to succeed in a social work job interview.

– Answers to fifteen most common interview questions. Multiple brilliant answers to all tough questions!
– Excellent interview preparation tips and winning interview strategies…
– By Jacob Gates (author of the book) and Matthew Chulaw (author of the audio recording), specialized interview coaches and co-authors of www.socialworkinterviewquestions.com
Can you answer the following questions brilliantly?
What motivates you in this job?

Why do you want to work here and not somewhere else?

What are your weaknesses?

And do you know how to:
Stand out from the crowd of dozens job seekers who compete with you for every job of a social worker?
Build good relationships with the interviewers and benefit from them?
Get rid of job interview stress for good?
Get a great job finally, in these difficult times?
It is not easy, is it?
It can be easy with our Social Work Interview Package!
See yourself what the fellow social workers think about it:
It was tough to compete with much younger job seekers, and I struggled with confidence in my interviews. But your package opened my eyes, and I saw the mistakes I had done in all my past interviews. After practicing and improving my interview presence, I got a great job of Family Intervention Specialist. Thank you!
Tanya Jones. FL


It's not easy to get a job in social sector, but it's even tougher for men. However, I got a clinical social worker job in my very first interview. I believe that the answers from your eBook and especially the interview strategies from the recording gave me an edge. I simply knew what to say in the most difficult moments. Thank you guys!

Carl Junge, TX


I am not very talkative, so it was difficult to 'sell myself' in an interview. However, after understanding the right strategies, as outlined in I Will Get a Job Recording, I understood one does not have to talk a lot to get a job of a social worker. One just has to use the right words…. Your interview guide showed me how to do it and I succeeded. Sending greetings from my new job!
Maureen Wiesner, England
From: Jacob Gates
Cambridge, Massachusetts
Monday, 6th February 2017
Dear Job Seeker,
While studying at schools, we are forced to learn many things we'll never use in our life. But when it comes to the real tasks of life, such as getting a job, we will understand that school has not prepared us for these kind of exams. But we all need to pass them….

I have interviewed more than one thousand candidates for various positions, ranging from secretaries to managing directors. I have seen countless people fail in the interviews. But…
They failed, not because their qualification was not good enough.
They failed, not because they were stupid, or had insufficient experience.
They failed, not because they weren't suitable for the job…
They failed, simply because they had no idea about how to sell themselves in an interview and what the interviewers wanted to hear from them.
Well, how could they succeed? They were fresh graduates, employees, young people, … in all good means. But they were not good in the art of acing a job interview. That was not a field of their expertise. Nobody told them what to do, what really matters in an interview, what questions they can expect and what answers they should choose. Logically, they failed. They failed, and many will fail in the future…
This doesn't have to be your path, however! We decided to prepare a specialized package for social work job applicants, consisting of free information on this website, an eBook with answers to the toughest interview questions, and an audio recording that will teach you how to 'sell yourself' in an interview. Every responsible job seeker can download it from this website and succeed.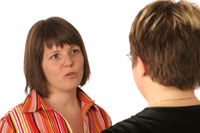 We are going to show you brilliant answers to the toughest interview questions. It doesn't matter if you apply for your first job, or have ten years of experience under your belt already. There is a good answer for everyone!

We are going to demonstrate, on practical examples, how to flourish in each part of the interview.
We will teach you how to make a perfect impression on the interviewers, how to win their hearts and get a job.

See the sample from the first part of the package, an e-book below: (please click here to download the sample as .PDF, if you can not see it properly on your screen. Thank you!)
This was just one interview question. A small fraction of eighteen pages long, specialized eBook, in which you'll find brilliant answers to fifteen tough and common interview questions.
And do not forget on the second part of Social Work Interview Package, the I Will Get a Job! recording, from my friend, a specialized interview coach Matthew Chulaw, in which you'll find:
Step by step guide on how to prepare for your interview.

Detailed guide on how to convince the recruiters that you are an ideal candidate for the job.
Advice on how to build relationships with the interviewers.
Advanced interview strategies and techniques.
Guide on how to turn your disadvantages to advantages in an interview.
And much more…
All information from someone who interviewed more than one thousand job applicants. Can you imagine anything better to help you to get the job of a social worker in an interview? I can't…
Social Work Interview Package details:
1st. Part- 15 Most Common Interview Questions and Answers
Format: E-book (.pdf format, you can open it on any desktop or mobile device).
Average customer rating:
(89 reviews from six different countries)
2nd. Part: I Will Get a Job! Recording
Format: Instant download, audio recording (mp3)
Author: Matthew Chulaw
13 Chapters, 56 minutes
Published in 2014, updated for 2017
Average customer rating:
 (176 reviews from twelve different countries)
Teaches you everything you need to know to win the hearts of the interviewers, perfectly applicable for social sector.
Interview for social work positions does not have to be stressful or difficult. You can be the one who interviews with confidence and knows brilliant answers to all their questions. Download the package today and ace your interview!

All people kept telling me my communication skills weren't good enough to get a job of a case manager. But I did not let them discourage me. I did more than the other applicants, I bought your interview package and also practiced my interview answers with an interview coach. I felt confident in my interview and they offered me a full time position of a case manager at a private institution for women. This is a great start for my career. Thank you Jacob!
Amelia Seweers, Canada
Competition is tough. You need to do something more to get a job.
With this package:
You will be ready to impress your interviewers by telling them what they want to hear from you.
You will be ready to respond to all tough questions with brilliant interview answers.
You will be the one who gets the call after the interview
Risk Free 30 days Money Back Guarantee
If you don't like the Social Work Interview Package for ANY reason, or no reason at all, just let me know within thirty days and I'll give you a full refund.
Just drop me a message to my personal email address jacob[at]socialworkinterviewquestions[dot]com with your name and transaction details. No questions asked, just a full refund.
Try my professional Interview Package in your next interview. Answers to the toughest interview questions from the eBook, brilliant interview strategies from the recording, and free information from this website form an unbeatable combo for your success! Once you've tried it, I'm confident you'll keep it forever and will be more than happy about your purchase. But if not, all you have to do is to ask for a refund. There's really nothing you can lose with your purchase.
Sincerely,
Jacob Gates,
Your personal job interview coach

P.S. Feel free to send me an email to jacob[at]socialworkinterviewquestions[dot]com if you are still not sure how this package will help you to get a job. I try my best to answer all emails within twelve hours.