Social Work Interview Guide
– All you need to know to impress your interviewers and get a job of a social worker
– Brilliant interview answers, winning interview strategies, and much more….
By Ellen King, Interviewer at specialized Social Work Recruitment Agency, lead author of Socialworkinterviewquestions.com

From: Ellen King
Philadelphia, PA, United States
Monday, 6th November 2017
Dear Job Seeker,
Can you answer the following questions brilliantly?
– Why do you want to work on this position?
– What do you consider to be your major successes and accomplishments in your last job? Who did help you the most to achieve them?
– What was your biggest failure in social work so far?
– Where do you see social work (or a particular field of it) heading in the future?
– What would your former colleagues say about you?
– Describe a situation when you did something more than expected from you in job.
– There are always cases we can do nothing about. Describe such a case from your experience. What have you tried before giving up on the case?
– How would you get closer to our target group?
– Here is a problem we have. Prepare a solution and describe it to us. You have ten minutes for preparation.
– Why should we hire you for this position?
It is not easy, is it? It can be easy, with my Social Work Interview Guide.
See the sample from the eBook below:
6. What do you consider your strengths and weaknesses as a social worker?

 

Hint: The same ability can represent strength for one job, and a weakness for another one. To abilities that characterize a good employee in social work belong:

Good communication skills
Understanding for the problems and needs of others
Ability to solve conflicts
Passion for work
Creative personality
Courage
High level of responsibility
Detail oriented personality
Good listening skills

Think about the list, and pick the strengths that you really have (or at least you try to have them) for your interview answer.

What isn't your strength, however, doesn't necessarily have to be a weakness. While some of us have excellent communication skills, many of us are simply average in communication. But it is still enough for a job in social sphere.

Having said that, you should rather choose a weakness that is not important in social work, or one that can be considered strength by some interviewers:

Being over-friendly to clients
Being impatient

Being punctual
Inability to make decisions on your own

Every job candidate has some weaknesses. However, the difference between average and exceptional people is an effort to improve on their weaknesses. If you honestly describe your weaknesses and explain the recruiters how you try to improve on them, you will tell them what they really want to hear.




Sample answers

Passion for work and creativity help me to stay motivated, and to correctly address various situations that may arise in job. On the other hand, my computer skills are below par. I try to learn to work with computers, attending evening classes, and practicing at home.

I have good communication skills, and I am not afraid to talk to anyone, or go anywhere. But I would say I am over-friendly to clients sometimes, which is risky in this job. But I am aware of this, and I try to control myself, to avoid misunderstanding of my behavior.
—————–end of the sample—————–
This was just one interview question. A small fraction of 50 pages long, highly specialized eBook for job seekers who want to get a social worker job, in which you'll find:
Brilliant sample answers to twenty-five most common social work interview questions.
Personality test that we use often when interviewing job applicants.
Guide on how to identify the value you can bring to your employer, and on how to demonstrate this value in an interview.
Two winning interview strategies that will help you to stand out from the crowd.

Guide on how to follow up your interview.
… and much more.
All information from someone who has interviewed more than five hundred applicants for positions in social work. Can you imagine anything better to help you getting this job? I can't…
What the others think
I can't be more happy right now! Your guide helped me to understand what the interviewers wanted to hear from me, and I avoided making the same mistakes I had made in my past interviews. I got a job of a Case Manager yesterday. Thank you Lisa!
Audrey Lee, New Jersey
I was afraid when I saw four young women competing with me for the position of social worker in a group interview. However, I was the only person with your guide, and I simply outclassed them with my answers. Thank you for helping me to get my first job!
Jamie Firooz, Colorado Springs
Hi Lisa, I just wanted to come back to you to tell my story. I purchased your interview guide just yesterday, the day before my interview. I spent barely four hours studying it and practicing my answers to interview questions. But I must say it gave me a lot of confidence and today I was just doing great! They offered me a job contract of medical social worker right at the end of my interview!
Erica Vanyo, London
Dear Job Seeker,
Still not convinced? Let me tell you something:
While studying at schools, we are forced to learn many things we'll never use in our lives. But when it comes to the tasks of real life, such as getting a job, we quickly understand that the school has not prepared us for these exams. But we need to pass them…

I have interviewed more than five hundred candidates for various social work positions. I have seen countless people fail in the interviews. But…
They failed, not because their qualification was not good enough.
They failed, not because they were stupid, or had insufficient experience.
They failed, not because they could not handle the job of their choice.
They failed, simply because they had no idea about how to sell themselves in an interview, and what the interviewers wanted to hear from them.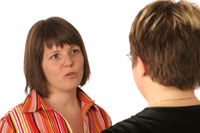 How could they succeed? They were fresh graduates, employees, young people … in all good means. But they were not good in the art of acing a job interview. That was not a field of their expertise. Nobody told them what to do, what really matters in an interview, what questions they can expect, and what answers they should choose.
This doesn't have to be your story, however.
I am going to show you brilliant answers to twenty-five most common social work interview questions.

I will show you how to make a perfect impression on your interviewers.

No matter how bad you think your interview performance is at the moment, I guarantee you will quickly learn how to impress your interviewers and get the job.
Ready to take the first step towards a coveted job contract?

Social Work Interview Guide
Format: eBook (.pdf format, you can open it on your desktop, tablet, smart phone, or kindle, and you can easily print it)
Average customer rating:
(32 reviews from five different countries)
But Wait! That's Not All!
You will get the following bonuses for FREE with your purchase!
15 Most Common Interview Questions and Answers – FREE gift [eBook]
To help you (or your loved ones) to succeed in any job interview to come!
You will learn how to answer the following interview questions:
Can you tell me something about yourself?
Why did you leave your last job?
Why should we hire you?
What are your strengths?
What are your weaknesses?
And ten other commonly used interview questions.
This priceless guide will help you and your loved ones in any interview, for many years to come…
I Will Get a Job! – FREE gift
A popular digital recording from a reputable recruitment consultant from Europe.
Mp3 format, one hour long.

Perfectly applicable for social work interviews.
Buy Social Work Interview Guide today, and get these two priceless job interview success products for FREE. It can't get any better than this, can it?
Interviews for social work positions do not have to be stressful, or difficult. You can be the one who interviews with confidence, and gives brilliant answers to tough interview questions. Download the guide today and ace your interview!
People kept telling me my communication skills were not good enough to get a job of a case manager. But I did not let them discourage me. I did more than the other applicants, I bought your Interview Guide, and practiced my interview answers with a friend. I felt confident in the interviews ever since, and they soon offered me a full time position of a Case Manager at a local community action agency. Thank you Ellen!
Lisa Jordan
General interview preparation is not sufficient.
You need to prepare especially for social work interview.
With this eBook:
You will impress your interviewers, telling them what they want to hear from you.
You will respond to all tough questions with brilliant interview answers.
You will be the one who gets the call after the interview.
Risk Free 60 days Money Back Guarantee
If you don't like the Social Work Interview Guide for ANY reason, or no reason at all, just let me know within 60 days and I'll give you a full refund.
Drop me a message to my personal email address ellen[at]socialworkinterviewquestions[dot]com with your name and transaction details. No questions asked, just a full refund!
Test it out for yourself. Try my professional Interview Guide in your next interview. Once you've tried it, I'm confident you'll keep it forever and will be more than happy about your purchase. But if you are not happy, all you have to do is to ask for a refund. There's really nothing you can lose with your purchase.
Sincerely,
Ellen King,
Your Personal Interview Coach
P.S. Feel free to send me a message to ellen[at]socialworkinterviewquestions.com, if you are still not sure how this guide will help you to get a job of a social worker, of if you have any questions. I try my best to answer all messages within twelve hours.